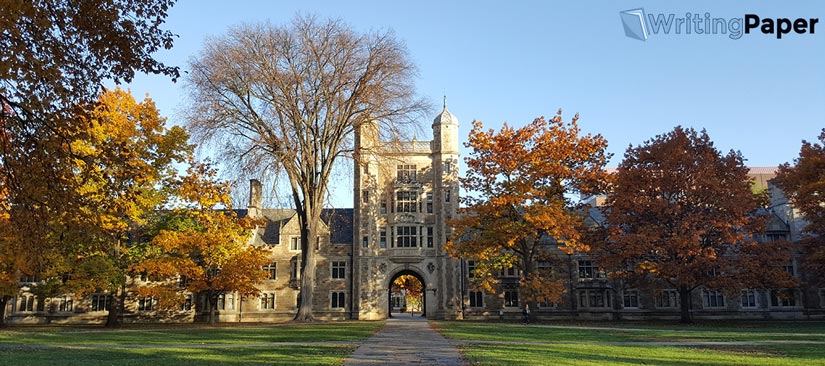 Each educational establishment has adored traditions, which exist many years. All of them are unique and interesting in the way of their own. Such traditions have a strong history of their beginning and evolution and they are very funny. Students adore some of them and some of them are close to professors' hearts. Moreover, there are traditions which are hard to understand or even accept. That's why I've chosen for you the most curious and fun traditions in the US.
The Harvard-Yale Football Game
Two of the world-famous educational establishments – Harvard and Yale – meet on a football battle every November since 1883. Harvard's team is called Crimson and Yale's is named Bulldogs. These teams are the great rivals and every year they compete with each other. Professors and students adore these matches because they are always full of emotions and vivid impressions. If one cannot visit the match because the essays is due, they just order them at WritingPaper.Org. Isn't it worth it?
Cornell University: Dragon Day
This day is celebrated since 1901. Every March there is a little "fight" between first-year students majoring in architecture and engineering. Architects build a huge Dragon and engineers do a large Phoenix. Students go across the campus with the Dragon which meets the Phoenix to fight.
Pennsylvania State University: THON Weekend
The convention of celebrating the February weekend started in 1973. THON Weekend is how they call 46-hour marathon of dancing without sleeping or sitting. Students enjoy themselves, dance a lot and sincerely like this challenge. Furthermore, they send a big sum of money from the festival to funds, which fight with pediatric cancer.
Le Moyne College: Dolphy Day
Every spring from 1971, college surprises its students with an unexpected day off. They adore this convention because they don't know when the surprise fest will be until it comes. The whole celebration begins at 2 o'clock at the night with the fireworks, and students have a free time throughout the day. Mostly, they make parties, have picnics or watch movies. An unexpected day off is okay, but sometimes it may not be a good surprise since you have already paid to buy research paper due to the lack of time.
Indiana University: Little 500
The tradition of Little 500 began in 1951. It is the biggest race on bicycles in the USA. People are divided into teams of four and they compete to win the race. Men have to ride 200 laps when the women's task is to ride 100 laps. Usually, more than 30,000 people visit the challenge. It's quite a hard task for unprepared participants, so the preparation for this challenge should be profound.
Mirror Lake Jump at Ohio State University
One of the freezing traditions in the US is conducted in Ohio. It is celebrated at the end of November since 1990. The point is that students get together and jump into the super cold Mirror Lake. Why? In such a way they celebrate Ohio State vs. Michigan long-waited football match.
North Carolina State University: Doughnuts Challenge
It is quite a controversial tradition because it gathers two different things – doughnuts and running. The point is that you run 2.5 miles. At the end of the half-distance, one reaches the Krispy Kreme shop, has a dozen of doughnuts there and runs back the to the campus. The challenge also has a good goal – it supports the North Carolina Children's Hospital.
Overall, traditions of each educational establishment have their flavor and goal. Some of them are created for students' entertainment and pleasure. Others have a goal to be not only fun but useful and noble. Nevertheless, it's great when the university has a style of its own and a list of special traditions.