The period of college studies is a time of new experiences for young people. College students have enough free time to think about traveling and to travel. Their budget is the only restricting factor. Young people frequently don't have enough money to travel to any place they want. It is sad.
Writingpaper.org writers are convinced: students can travel to beautiful places, even with their low budgets. Here below, they chose a set of 12 cheap places to travel for college students. Those are countries where you can explore new places without spending much money.
1. Abkhazia – Probably One of the Most Unusual Places to Travel for College Students
Both people who love lying on a sandy seaside and those who prefer active mountain tourism can have a good rest in Abkhazia. This small country can offer you wonderful nature and multiple ancient places of interest.
2. India – The Eastern Place to Travel
India is of the most exciting places college students can travel to. Additionally, India is of the cheapest countries travelers can find. The unforgettable cultural phenomenon, multiple tourism sites, and other interesting places.
Here, you can visit not only Deli and Mumbai. Everyone travels there, that's dull. You shouldn't limit yourself with Kerala and Goa beaches, too. For instance, Himachal-Pradesh Mountains are one of the best places for college students to travel and go in for skiing. Ancient Rajasthan castles can make you happy as well: here, they offer to try the life of a real maharaja without paying too much.
3. Turkey
Turkey got slightly more expensive to travel, but it is still of the top cheapest tourism countries in 2019.
Turkey offers beaches, and "all-inclusive" resorts along with many other sites college students would never refuse to attend. Cappadocia deserves some special attention with its beautiful landscapes and sunrise balloon parades.   
4. Poland
Although Warsaw is the capital of Poland, Krakow is the cultural center of this European country. Here, one should attend Kazimierz, the Jew district existing since Medieval.
In case you like skiing, High Tatras will be your place. The spectacular resort of Zakopane reminds of an authentic 19th-century Alpine village. Polish people are proud of their heroic history, so there are many monuments of famous war leaders, politicians, writers, and scientists from Poland. All of them are worth visiting.
5. Montenegro – the Marvelous Place to Travel for College Students
Montenegro is stunning because of its landscapes. The Mediterranean Sea, with its beautiful sandy beaches and comfortable resorts, washes the country from one side. On the other side, there are mountains to go skiing.
The climate of Montenegro is mild, offering comfortable temperatures throughout the whole year. Young people who decide to travel there can see blue seawater and mountain peaks covered with snow at a time behind the window of their hotel room. 
The best places college students to travel to and rest are Kotor and Budva.
6. Croatia – the Balkan Pearl
Croatia is thought to be the romantic heart of Europe. The country which is situated between the Adriatic Sea and the Alpine Mountains can make even the most experienced and spoilt tourists happy. 
Here you can rest at the seaside, try diving, visit mysterious caves, and watch at the sunsets above the orange tiled roofs. The brightest natural site of Croatia is around Plitvice Lakes.
The local Croatian color is fascinating. You will never regret you visited this country.
7. Greece
Are you a student dreaming of a "postcard vacation"? The best country to get many Instagram photos is Greece. It is slightly more expensive than our cheap places to travel for college students, but Greece is still among the most low-cost tourism countries in 2019.
Numerous ancient architecture memorials and real heaven islands expect you to visit them in Greece. Islands of Crete, Kos, and Rhodes have perfect recommendations from most tourists. They are of the best cheap places to travel for college students. 
8. Nicaragua
A trip through this country is one big adventure starting from the Caribbean seaside and ending on northern farms. The San Juan River and Tennessee tributaries expect college students to raft through their waters. This Nicaragua region has pristine nature, exotic birds, animals, and unforgettable jungle landscapes.
College students can also enjoy the blue waters of the wild beaches of Big Corn Island. They can go hiking in the mountains and do whatever they want without worrying about their budgets. Nicaragua is one of the cheapest places you could ever visit.
9. Northern Ireland
Great Britain has never been a cheap country, but Northern Ireland is an exception. Multiple private houses and hostels that are opened for rent allow college students visiting local places of interest with no rush. Titanic Belfast, the museum and maritime heritage monument, is a place where they got the notorious ship on the water. Derry (Londonderry) is a city with a rich and wonderful history. Northern Ireland is definitely worth visiting.
10. Egypt
Despite recent threats, tourists never refused to attend the cradle of an ancient civilization. College students won't find many places with that profitable combination of affordable prices and variable activities.
Egypt has many sites to offer. Cairo pyramids, Tutankhamen treasures, sunny Hurghada beaches, Sharm El Sheikh corals – these, and numerous other places are accessible for college students because of moderate prices.
Students who want to get as many impressions as possible can rent a felucca (a tiny wooden sailing boat) and sail down the Nile to the Karnak temple. It will be an informative and exciting journey.
11. Vietnam
The popularity of Vietnam is attractive for those students ready to spend enough money to buy plane tickets and then restore the budget balance because of cheap living and food prices inside the country.
The culture of Vietnam is beautiful for foreigners from America and Europe. It had been hidden from them for long in the past. Magnificent temples, ethnical excursions, tours through mountain forests: Vietnam invites not tourists but guests. 
This country of Asian exotics and mystery shares secrets with everyone. Besides, Vietnam offers the world's cheapest pearls, unusual cuisine, and friendly locals.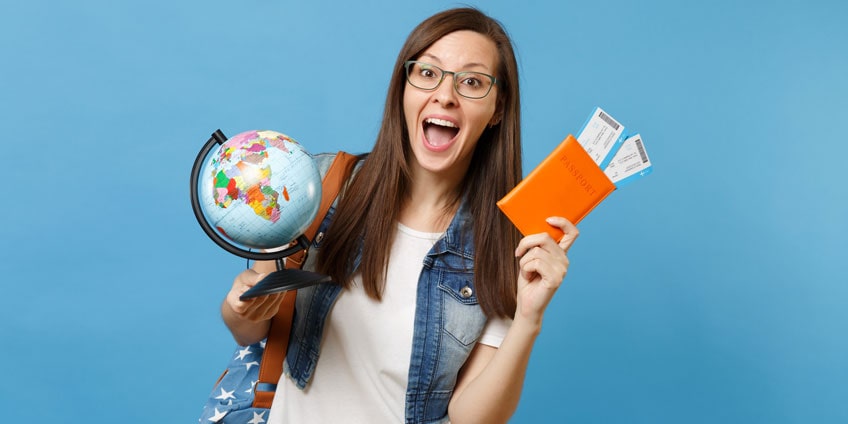 12. Argentina
National parks of Argentina have all the wonders of the world: 200 million-year-old canyons, blue mountain ice peaks, red deserts with the biggest cactuses, strange forests with curved trees, etc.
Waterfalls decorate almost every national park in the country. Impressive views and emotions are guaranteed to every college student who is ready to travel to Argentina.
Apart from ecological tourism, one can spend time in Buenos Aires, the city of contrasts. Argentinian culture is a firework of senses, colors, and paradoxes. You better be ready!