If you are aware of all fashion trends, adore designer bags and dream of working in the fashion industry, most likely you are considering the various programs at the most popular fashion universities around the world. We decided to help you make the right choice and provide a list of attractive job areas which you can fulfill yourself in after receiving a Bachelor or Master Degree.
Fashion Illustration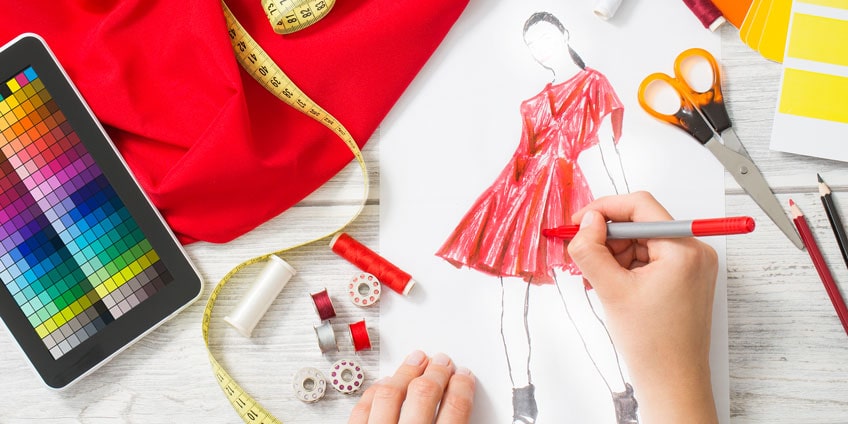 Modern fashion illustration was born from the sketches of the first fashion designers. Using sketches, the designers coordinated their ideas with customers – it was cheaper than sewing a fabric sample every time.
Later, fashionable pictures began to be used in advertising new collections and on the pages of magazines including Vogue, Life, Harper's Bazaar, La Gazette du Bon Ton.
Now the fashion illustrator is a full-fledged profession. Talented artists with an original presentation of the image are looking for advertising agencies, fashion houses, boutiques, and glossy magazines. To get into the top of the sought-after professionals and participate in the main events in the fashion world, you need to have not only talent but also appropriate education. Before becoming a permanent Christian Dior artist, Bill Donovan studied at the Institute of Art in Philadelphia, moved to the Fashion Institute of Technology in New York, and improved his skills attending courses around the world.
The work of a fashion illustrator is to create sketches, pictures, lookbooks, advertisements, fashion style covers. It means that you have to work out a bright image with an emphasis on the semantic details.
Fashion illustrators paint:
models in full growth;
close-ups faces;
cosmetics and perfume;
accessories;
plot sketches;
patterns.
Fashion Merchandiser
The fashion-merchandiser is responsible for creating the store concept and visual presentation of the product in its space for the most advantageous demonstration. His duties include organizing the presentation of seasonal collections, decorating counters and showcases, creating stylish and eye-catching looks on mannequins, laying out the goods in the hall, providing information about the product. Moreover, the fashion-merchandiser plans and prepares the store for changing seasonal campaigns and participates in the inventory and other commodity operations.
It is worth to admit that by means of fashion merchandising methods, you can solve the problem of increasing sales at three levels of customer exposure:
inform about the proposal,
draw attention on an emotional level
affect the installation to purchase at a subconscious level
What qualities should the professional fashion merchandiser possess?
Time management, efficient workflow management
The ability to work in a team
Multitasking, the ability to conduct several projects
Attention to details
Fashion Designer for Clothes
Choosing to be a designer, it should be remembered that no one will give you the opportunity to create your own personalized brand during the first years of education. Even the most successful designers started from the position of assistant designer in some large companies, and then went away and started their own business, using knowledge and skills, as well as contacts acquired at work. Well, if you can't create your brand, or if you don't want to do it, you can always work in a leading fashion house or a company that produces goods for the general consumer.
The work of a designer begins with a search for customers-buyers and negotiations, where all necessary details are discussed. At the beginning of work on a new product, the designer creates sketches of future models, deals with the selection and purchase of necessary fabrics (fur, leather, thread). The designer controls the quality, and as a result, he or she is responsible for the final model.
The next stage of production is the direct tailoring and production of models according to sketches. Together with technologists, the necessary technical documentation for production is compiled as well.
In addition to direct work with clothes, the duties of the designer include the preparation of advertising campaigns, building partnerships, organizing and conducting shows, participating in various fashion shows.
Fashion Journalist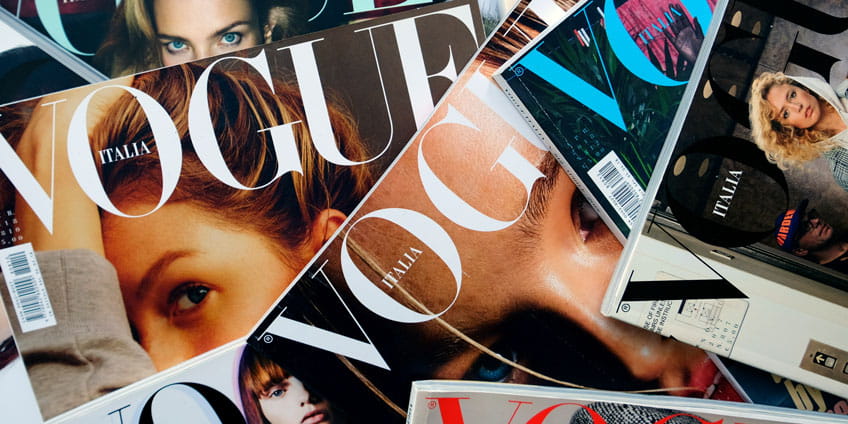 Fashion journalist is a "young" profession. These are the people who work in glossy magazines, fashion-media, both the Internet and print media, on fashion-channels and in programs devoted to fashion, style, etc.
Many fashion journalists start their careers in the PR offices of brands and continue to work and cooperate with these fashion designers when they compose advertising and text materials for them.
Let's say that a fashion-journalist is one who is well versed in fashion and style and knows how to convey this information through the text to the reader.
The most important thing for a fashion journalist is a love for the world of the fashion industry, an understanding and a good knowledge of style. Fashion-journalist will never be successful without this comprehension. You should remember this fact.
Fashion Photographer
Glamorous and attractive world of fashion business can become a "trap" for many professional photographers and amateurs. If you decide to achieve success in this sphere and become a fashion photographer, then you should plunge into this atmosphere and work really hard. After all, it is no coincidence that the world of fashion is cruel and subject to the vagaries of fashion. But at the same time, this work will allow you to realize your creative potential to the maximum.
You have to be ready to have a huge responsibility for the whole process of the photo shoot. You will have to organize everything: develop a concept of filming, select models, a place (nature, studio), think about a wardrobe, hairstyle, make-up, poses, choose requisites and scenery. There are no trifles in fashion photography, every detail must bear its meaning. Therefore, everything must be carefully thought out and maintained in the same style, so as not to violate the unity of image perception.
In addition, every fashion photographer should come up with an expressively painted image that will be remembered and interesting to the viewer.
To build a career in the field of fashion photography, you need serious theoretical training in several directions at once. Technical nuances of working with the camera are only one of them, and moreover, it is not the most important thing. A fashion photographer should know:
theory and history of fashion;
styles, including hairstyles and makeup;
industry trends;
professional terminology;
key industry figures;
types of lighting and basic composition;
features retouching and post-production in the field of fashion.
Fashion Stylist
Fashion-stylist works with brands and designers of clothes, creating unique looks for shooting catalogs, lookbooks, advertising campaigns, collections. Before shooting, he or she makes research on trends, creates moodboards, selects, and combines sets of clothes, shoes, and accessories. Moreover, fashion stylist is responsible for forming a creative team and approving models. The fashion stylist should know:
Fashion history
The modern fashion industry, global fashion trends, major fashion brands
The market of global clothing manufacturers
Principles of the psychology of perception of visual information
Consumer psychology
Typology of clothes
Methods of visual correction
Basics of marketing and communications
Fashion Buyer
Buyer is the one with whom every designer wants to be friends. They influence not only what people wear, but also dictate what things to add to the next collection of the brand, based on sales. Buyer is not always a person with some impeccable taste, instead, he or she is well versed in numbers and has a commercial sense.
The buyer has to analyze past sales and make market research. This is followed by a search for suppliers, signing an agreement with them, budgeting, etc.
The duties of fashion buyers assume an in-depth knowledge of the fashion industry: what trends exist and are foreseen in the future season, what is in demand, what price corresponds to a specific product, and many other factors. When making a purchasing decision, they take into account:
company positioning
existing store style
price category
customer expectations
finances and budget.
Buyers must be sure that when they come to a boutique or department store, they will be able to find things of a certain style and at their usual price, and most importantly, they will want to buy them – this is the primary goal of the buyer.