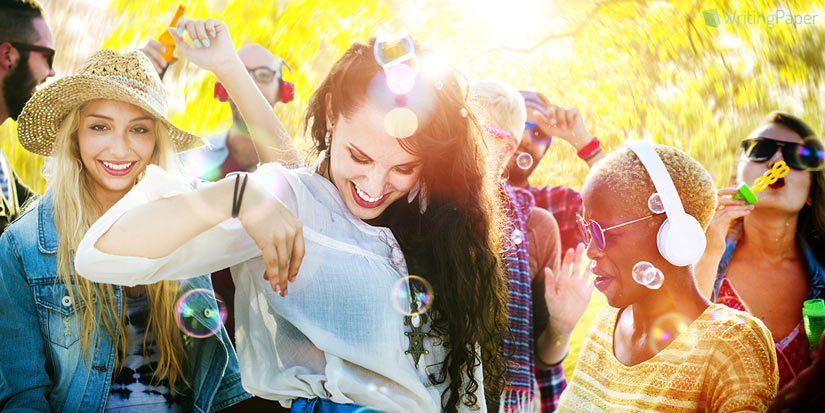 When finishing college, students often think not only about making a graduation speech but about a celebration party as well. It is not an easy decision as all group mates should take part in it, and everyone's interests should be taken into consideration. There are lots of ideas to make graduation party unforgettable and amazing for all guests. Here is a list of the most exciting ideas; however, it is not necessary to follow them strictly. Add something personal and unusual to improve examples in this article.
Nature Area
It is a good idea to spend the celebration day outdoors: that may be riverside or park – choose a place you like the most. Moreover, you can go somewhere your group had a common event or meeting years ago. That will be a great opportunity to share memories. Outdoor celebration gives an opportunity to prepare various foods. They can differ from cold starters to barbecue. In addition, you can do several activities with your mates, like playing sport games, swimming, and so on. There is no place for boredom if all of you are energetic and cheerful guys.
Travel Somewhere
Choose another city or town to celebrate your graduation and spend several days there. It will unite your group as well. However, you can also travel with some of your best friends or family members. Visit local restaurants, cultural monuments, theaters, etc. in order to fully enjoy your voyage. Be sure that such celebration will stay in your memory for a long time.
Amusement Park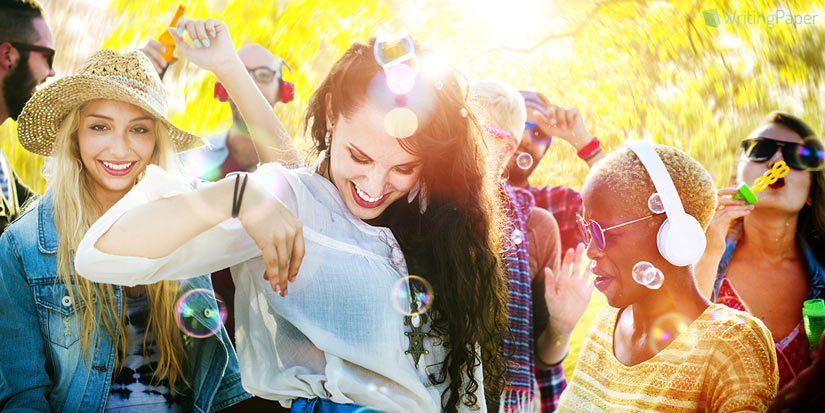 Take your mates and go to the amusement park! It is a really funny place for celebrating. You can get some food and drinks there as well. It is great chance to feel the spirit of childhood before finally entering the adult life. Ride roller coasters, visit laugh rooms, make cheerful photos, all that will definitely make your graduation memorable.
House Party
Rent a big house and start preparations. It is a great idea to make a theme party about college life, for instance. Decorate walls with academic caps, clippings from education press, your group's photos, etc. Order some food which students like the most and turn the music on. It may seem like a banal variant, however, it is a hilarious one.
Visit Pubs
Do you have a favorite pub in the city, which you used to visit with group mates? It may be a pretty good place to spend the evening after the official graduation ceremony. Create a cheerful atmosphere and enjoy this small party. Moreover, it is a quite cheap way of celebration, as all you need is to order some drinks and snacks.
All in all, graduation is the significant period in every person's life, so a lot of attention should be paid to make in an unforgettable experience. Try to keep in touch with group mates and gather all of them after official ceremony to have a private and friendly party. It may be a great chance to discover something new in your friends and get a new view of them as of individualities.
Some Details to Put the Finishing Touches to Your Celebration
Whichever option you and your group mates are going to choose in order to turn the day of your graduation into a warmly memorable occasion, you would definitely like to add something special to it. This something must be very original and creative, so that come time later you could tell your friends, colleagues or, maybe, even your children how amazingly you spent the graduation party time with your college friends. Besides, this something must assure all of you, who are going to celebrate the graduation, that your party will become one of the college legends and those guys who will graduate in the following years will even try to copy it.
Of course, they will not manage to do it as greatly as you, because no one will ever be able to compete with you and your mates in creativity and unanimousness.
Below you will find some nice ideas on how to diversify your celebration and make it simply gorgeous. Still, there is one very important thing you and your friends should remember about: the atmosphere of your party and the impressions of it which will be engraved in your memories will depend not on the activities you are going to organize or the place where you are throwing the party. Everything will depend only on you, your positive mood and your wish to enjoy the occasion together.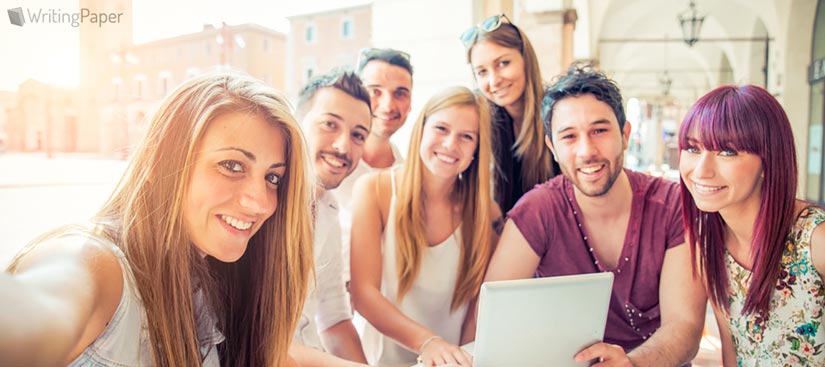 Idea #1. Take Themed Photos and Make Videos
Definitely, no celebration can go without a photo shoot and video-making. Indeed, why not make real fun of this and capture the best moments of the party to share them with your family and friends many years later? No doubt, the idea is great! But let's season it with some originality!
If you have decided on a theme party, your photos and videos will be themed by default. In order to go even more creative, think about decorations in advance. Regardless of where you plan to spend your time, you can bring some props with you.
Even if you do not want to dress up as gangsters or samurais, still you can invent a story and direct it as a nice short film about yourselves. You can also take some funny group photos, not selfies, but really original ones, which would have a plot or a general idea. Props are also welcome even if they do not refer to one particular theme.
In case most of you stick to the fact that the best photos are those which are taken unexpectedly, when no one is posing, and the best videos are made when the "actors" do not suspect that they are being filmed, then some of you can take your cameras along and capture some funny or moving moments of the celebration. Then you can edit the "materials" and get an outstanding selection of the warmest memories for many years to come.
Idea #2. Embrace Different Cultural Traditions
Bet, some of you are interested in or directly connected with non-American cultures and their traditions. What about sticking to some of them when celebrating your graduation? All students around the world are quite ingenious guys who know how to enjoy their time. Here are some interesting facts:
In Sweden grades wear sea captain hats and can have a few glasses of champagne in the nearest park. Everything is legal.
If you reveal that you are a graduate while on a vacation in Italy, you may risk being attacked by flying foods and liquids. That is strange but true.
Idea #3. Prepare Some Small but Memorable Gifts
The idea speaks for itself actually. However, to make a gift-giving procedure more interesting, why not play "Secret Santa" once again? Although your graduation is definitely not in winter, still it would be so pleasant to receive something memorable from your college mate and to surprise one with your gift as well. You can use a Secret Santa Online Generator (however frightening this name may sound), which will help you all determine for whom you must prepare graduation presents.
Idea #4. Play Role Games
A role game is a kind of quest. Its probably most significant difference is that all "characters" have individual tasks and hence there are no winners or losers. The main idea of the role game is to literally live the life of your character and survive until the game is over. It is a great team entertainment which will give all of you one more chance to know each other closer and collect only bright and cheerful memories of your college mates.
Idea #5. Just Do Something You Have Dreamt About for Ages
Whatever it is. The most important thing is that most if not all of you would like to do it. Canoeing, skydiving, bungee jumping – the list of crazy activities that we can venture upon probably only once in our lives is endless. So, why not try something right after the commencement or, okay, a few days after it?